Getting Started
Welcome to Financial Snapshots!
The guide will get you quickly started.
(if you are using Financial Snapshots with a USB key - see the note at the bottom of this document!)
The very first time you run Financial Snapshots, it will ask you if you are legally allowed to sell securities:

If you are, click Yes.
If you're not sure, you can hit cancel and we'll ask you again next time.
Next, Financial Snapshots will ask you for your License Information: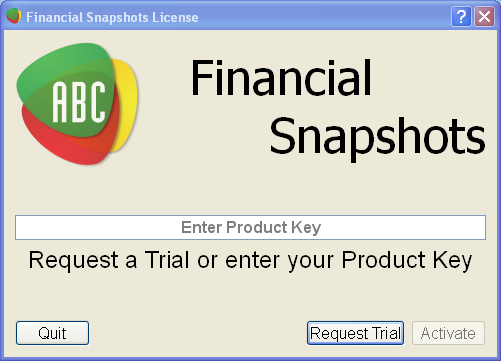 If you are evaluating Financial Snapshots for the first time - click 'Request Trial' to get a free 30-day trial license for the software.
If you are upgrading from an earlier version of Financial Snapshots - enter the Product Key (*) you received when you first purchased the software - then click 'Activate'.
If you would like to purchase a Product Key for Financial Snapshots, or for more information, call your marketer at Dressander or BHC Marketing.
(*) If you can't find your Product Key, you may retrieve it by clicking HERE. If you have trouble retrieving your Product Key, log an issue HERE - be sure to include enough information for us to find you!
Financial Snapshots will then retrieve your license: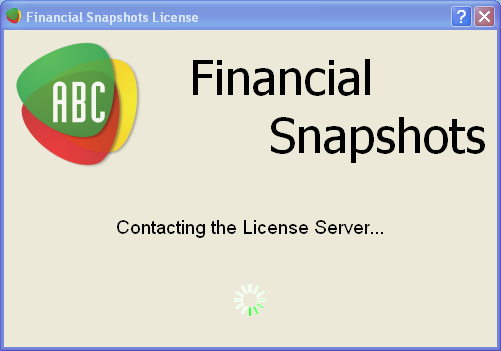 Once your license has been retrieved you will see the following: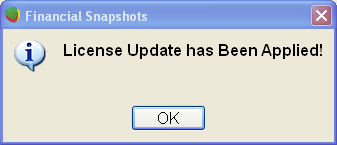 If you run Financial Snapshots again in Trial Mode you will see the following: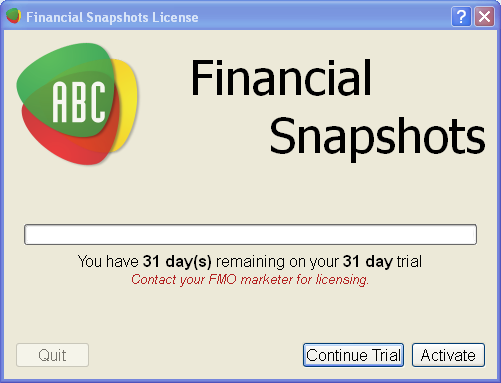 You can continue your Trial by clicking 'Continue Trial' if you have already purchased a Product Key you can enter it here and click 'Activate'.
In addition - you can Activate your software at any time from within the program by selecting 'Enter Product Key' from the Help Menu: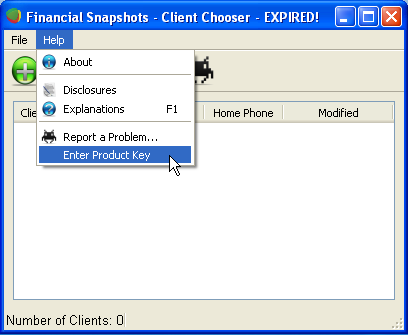 Special Note for USB Key Users...
If you are using a USB Key for Financial Snapshots - you can still use the new versions!
In order to use the USB Key - you should run "Financial Snapshots - For USB Key Users" rather than "Financial Snapshots". They are both the same program - it just adds an option to tell the program to use the USB Key!